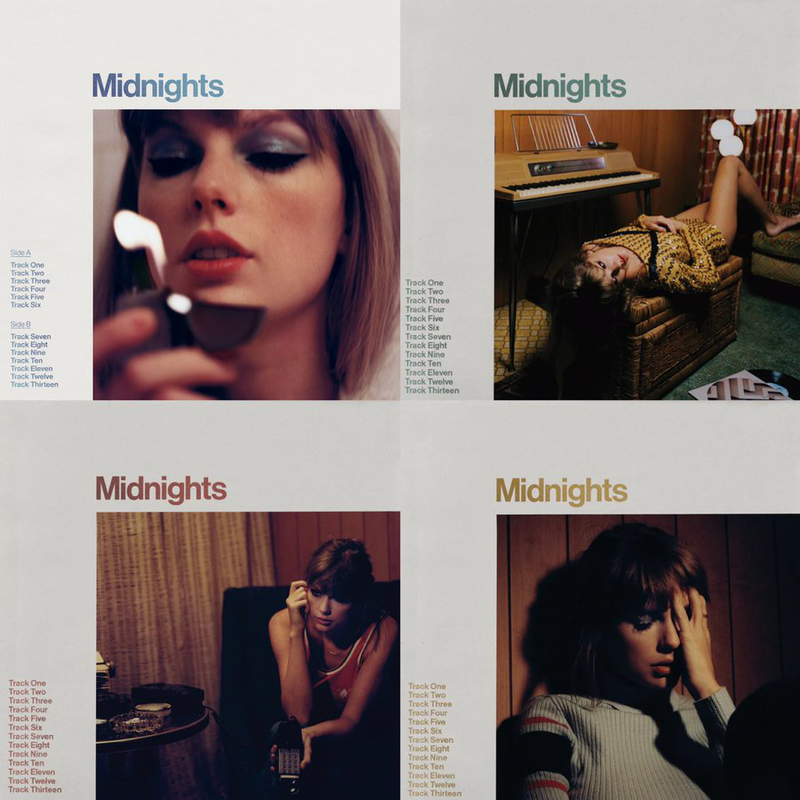 Dear Reader,

Many of you may have stayed up at midnight that night eagerly awaiting. You know the night we're referring to. The night that, after two years of radio silence, Taylor Swift took her fans on a trip of pure nostalgia and surprise disclosures with new recordings, honing in more closely on her career and personal life.

Songs from Taylor Swift's highly anticipated 10th album, Midnights, flooded the Billboard Hot 100 chart, making Swift the first artist to fully occupy the Top 10 spots. If that doesn't tell you how great of an album it is, we don't know what will!
The country-made-pop singer released Midnights on Oct. 21, 2022 after two years of no new releases. Fans anticipated the new music and followed along as Swift released track titles leading up to the album. The marketing gimmicks and social media posts left people putting puzzle pieces together.
Have you been on the fence with whether or not to give this new album a shot? Well, welcome to our first review, where several of our staff give their (professional) opinions on her most recent work.
Check out what staff member Andy had to say after listening to the album for the first time:
"I'll admit that at first listen I didn't think the album lived up to all the hype it got pre and post release. I definitely expected a different sound rather than what she gave us, which felt like songs meant for radio (iykyk). The more I listened, the more I changed my mind and grew fond of the work. Even so, with 13 songs and 44 minutes of listening time, I found several songs to fixate on for the following months. "Midnight Rain" stood out to me from the start. It sounded different than any other song on the album and I'm all for unique music. Other favorites include "Maroon," "Anti-Hero," and "Karma." Swift has a way of coming up with catchy and sassy lyrics which I love. I won't go in depth with the "Midnights (3am Edition)" but I will say that "Would've, Could've, Should've" and "Bigger Than The Whole Sky" stayed on repeat.
In "Bigger Than The Whole Sky," it seems as though Swift is referencing miscarriages and child loss. A heavy topic, I think Swift did a beautiful job portraying the emotion behind such a tragedy. In the song she asks, 'Did some force take you because I didn't pray? Every single thing to come has turned into ashes.' The singer/songwriter describes the questions and guilt that pairs with grief, and many fans related to the lyrics, making them go viral on Tiktok. This just goes to show how powerful music is to many. I also use this song as a reminder that Taylor Swift doesn't only write songs about her love life and boyfriends. She pulls from other life experiences of her own and others. Truly, she does the dang thing!
The one song on the album I skip every time is "Snow On The Beach" featuring Lana Del Rey. Like many fans, I was so excited to hear Swift mix her sound with that of another artist. Listening to the final product, I think it sounds bland and boring, like it's putting me to sleep. I also don't think the feature added much to the song and wish we'd heard more of Rey.
Coming from someone who absolutely adored the vibes of "Evermore" and "Folklore," this album wasn't my favorite by Swift. I remember thinking, 'hmm, this isn't what I expected.' That said, I still applaud Swift for making new hits. From a Swiftie that sadly did not get Taylor Swift tickets, I will continue streaming Midnights and waiting for the re-releases of her older albums."
Here's what another staff member had to say about Midnights:
"I did not think that 'becoming a Taylor Swift fan at age 36' would be on my bingo card set, but here we are. I've had the song "Karma" stuck in my head since listening to the album. She goes from a synth pop sound to lofi beats and soft production, and you can tell by the instrumental transition that this is a more serious album. It's a testament to her ups and downs, and also a celebration of overcoming them. She's leveled up in this one." - A.
Also previously skeptical of Taylor Swift's popularity, A has grown to appreciate the singer's fresh lens on love.
"She's become a stronger and wiser version of herself," says staff member K in agreement. "Her songs in Midnights are more reflective and come from a place of emotional maturity. I remember when critics of hers would say things like 'Taylor Swift needs to recognize that maybe she's the problem in her relationships', which to me can come off as one-sided, but then in "Anti-Hero" you hear her sing 'it's me, hi, I'm the problem' and I was just like 'whoa! This is completely different.' She focuses inward, and with this album she's all about setting an atmosphere of inviting her listeners to see her vulnerabilities and flaws, rather than setting trends or giving subtle name-drops in her lyrics.
I also love that the music sounds more moody and subdued than her past albums, almost like it's a tone that's self-aware. She asserts her creative agency, using the album as a conduit to help her own her problems, and then begin the process of changing them. It makes perfect sense that this album is titled "Midnights." When do we tend to have the most intricate, inversive, and often painful thoughts that linger and lead us to question the way we do things? In the late hours.
It's a beautifully written album. Even if you're not a TS fan, you'll surely admire the flowery vernacular and deep examination."
Convinced to give it a listen? Stream it on our Hoopla app or download it here.