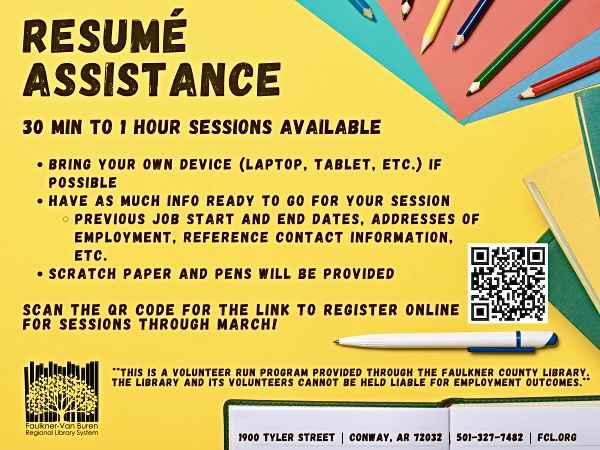 New year, new you—same us, more services! It's now 2023, and we bet most of you have been working to kick that New Year's resolution into high gear. For some of you, career advancement might be at the top of the goal-setting list. If you've been searching for a job or have a certain position on your radar, we can now help you strengthen your portfolio for a better chance of securing it!

From January through March of this year, we will be offering resumé assistance! Melissa Freiley from the Hendrix Bailey Library will be here to not only help you build/update your resumé, but to also help you complete job applications and give you tips for answering common interview questions. And as an added bonus, we'll let you print out your resumé for free!

Here's how it works: we will have 30 minute to 1 hour sessions available. Prior to meeting with the instructor, please ensure you have all the documents or information you need. Walk-ins are accepted, although reservations are preferred. There are a limited number of time slots, so be sure to double-check the dates on the reservation form below when you choose a spot, that way you are more likely to get the times you want!
Scratch paper and pens will be provided, but don't forget to be ready to go for your session! Here's some examples of what to bring with you:

• Previous job start and end dates

• Addresses of employment

• Reference contact information

• Your own laptop, tablet, or other electronic device if possible

*Just as a disclaimer, the volunteers who run our resumé assistance program cannot guarantee employment or be held liable for any outcomes. The purpose and design of this program is to increase your prospects for being hired, but we cannot promise job attainment through participation; that is contingent upon the level of performance you put into the application process. Our intention is to help you succeed with that!*
Many patrons have been asking for this service, and we're so glad to finally make it possible! We'll see you at the library, and good luck with your applications!