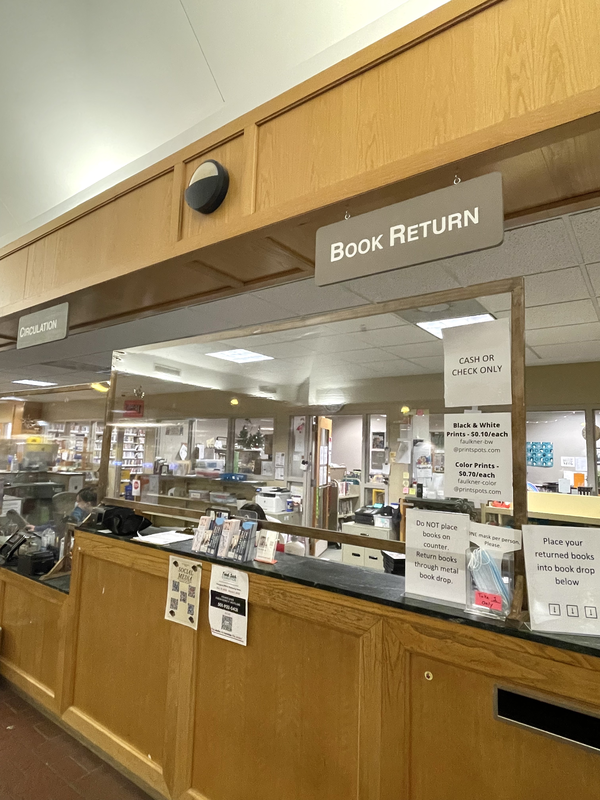 Everyone knows that public libraries are one of the most magical inventions on Earth–people from all walks of life can come together in community and find practically anything they need. Libraries are one of the few organizations left in the service industry where utilization isn't accompanied by the expectation of spending money. Not to sound too biased, but the Faulkner County Library might just be the coolest hangout spot in town (okay, maybe aside from the splash pad at the park). As counterintuitive as it seems, our headquarters in Conway is constantly busy and we easily help close to 500 patrons in a single day if not more. If you've been to our summer programming, you know exactly what we're talking about!

Despite the welcoming vibes and lively atmosphere, libraries can be intimidating if you're unfamiliar with the lingo or which department to go to for questions. Whether you're a newbie or a frequent patron, here's our mini guide to common library terms, the names of different areas around the building, and ways that you can get involved at your local branch!
Basic Terminology
Circulation: This is where the usual stuff happens–checking out or returning items, getting your first library card, and updating your account information. You may hear front desk workers mentioning items being "circulated", which means how many times it's been used by patrons. This is where to ask questions, and if the staff here doesn't know the answer, they can direct you to the right people!
Reference: Being a smaller library, we don't have a separate reference desk per se, but we do have a handful of more experienced librarians who can help you with your research needs. They can show you how to use the microfilm machine, look up local records in the Arkansas Room, and provide tactics for better understanding online sources!

Programs: Libraries aren't just about books, but also about putting on events! From author talks to after-school programs, we have something exciting for every age to participate in. Ask a worker at the circulation desk to point you to our calendar shelf!
The Stacks: We're not talking about the home of the main protagonist in Ernest Cline's Ready Player One, but rather something a little less dystopian. These are the lines of shelving that house our physical collections, and are organized based on genre and format.
Catalog: This is where you can look up an item to see if we have it and check its status. You may see that a DVD is "processing", meaning it's brand new and currently being inventoried into our system, or that a book is on the "repair shelf" and we're fixing some damage. The catalog will also tell you whether an item is part of our digital collection or if it's at another branch. We have card catalog computers for public use on each level near our ramps, or you can ask a circulation worker to search for an item!
Branch: Fun fact–we are a dual-county system. This means the Faulkner County Library is actually the Faulkner-Van Buren Regional Library System, but it's easier to just say the former or simply "FCL." We have 8 locations: Conway, Vilonia, Mayflower, Mt. Vernon, Twin Groves, Damascus, Greenbrier, and Clinton. We share funds and resources with each of them, and if you ever need a hold (see next section for the definition) transferred to a different branch for your convenience, we can do that!
Books and Resources
Holds: Want a guarantee that a book you're waiting for will be yours next? You can place a hold on an item in our collection–given that it's not a reference-only item to be kept inside–to ensure you can grab it during your next trip to the library. For a faster experience, we'll place your hold in a locker when it's ready for pickup, and all you have to do is scan your card and the locker will pop open with the materials already checked out to you!
Requests: If we don't have an item in our collection that you want, you can place a request with us! We'll either buy it from our distributor or borrow it from another library system. If it's a new title that hasn't been published yet, we can do pre-orders as well. You can fill out a request form by logging into your account on our website or asking the front desk!
Interlibrary Loan (ILL): Remember that bit about borrowing an item from another system? That's what this is called. If we can't purchase it, we'll reach out to libraries across the country and see who has the closest copy. Depending on the agreement we have with that library, the checkout time may be shorter than what we allow with our own items.
Collection Development: This is the process that librarians complete for selecting, acquiring, and "weeding out" items. Weeding is a necessary step that means getting rid of items that are outdated, in poor condition, or no longer serve the community's interests. After all, a 2003 edition of PCs for Dummies probably isn't the most accurate source of information anymore.
Get Involved
Donations: Have a box full of books or CDs you're cleaning out? Give them to us! We can possibly add it to our collection or include them in our book sale. If anything, we can recycle them. A useful tip: don't leave piles of donations outside the book drop. Knock on the door and we can help you unload them! As a thank you, you can write it off on your taxes for credit by filling out our donation form.
Friends of the Library: This is our volunteer group that supports us and provides funds. Most libraries have them! They often run donation drives, book sales, and other important special events to help keep us going. You can sign up for a membership at the front desk and join our community service network (it comes with a free tote bag too!).
Library Board: A group of elected or appointed individuals who work closely with the Library Director on library policies, monetary decisions, and strategic plans. Library Board members represent and advocate for our community and the library's best interests. You can find more information on the Board at fcl.org under our About Us tab, including their meeting minutes, agendas, and upcoming issues they'll be discussing. This is another great way to get involved with your library! The FCL Board meets on the 3rd Monday of each month at 5:30pm, and the Van Buren Board meets the 2nd Wednesday of the month at 5pm.