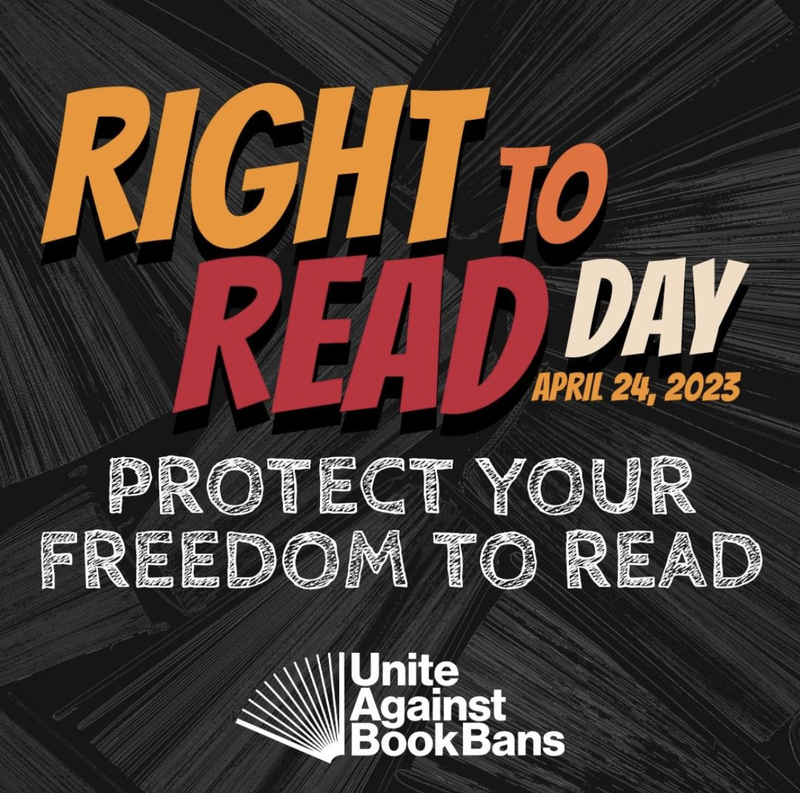 Book bans are something that no library is immune to, and the effects can be devastating for communities. Not only is having access to information a constitutional freedom, but it is paramount to our advancement as a society. You've probably heard the famous quote from Winston Churchill, "those that fail to learn from history are doomed to repeat it." Book bans and other aims at censorship from our past have proven his point: erasure only begets ignorance, and spins a vicious cycle of injustice that threatens liberty for everyone. Efforts to more closely scrutinize educational institutions nearly doubled in 2022–the American Library Association's Office of Intellectual Freedom tracked over 1,269 attempts to ban books and other resources in libraries and schools. In the state of Arkansas, those same attempts are happening with greater frequency. Even our own library has been subject to a few book challenges over the past year, and we continue to combat opposition from the local to the legislative level.

This week is National Library Week, a time that recognizes and supports readers, librarians, advocates, educators, and library lovers in their mission for providing knowledge. Monday, April 24th, is Right to Read Day, a call for all to defend against censorship and protect their right to read freely. This is also the day that the State of America's Libraries Report is released, which includes the Top Ten Most Challenged Books for the previous year. But we can all agree that every day should be Right to Read Day, right?
According to the ALA, the most challenged books addressed topics on race, gender identity, sexuality, and reproductive health. 2022's most challenged books were:

1. Gender Queer: A Memoir by Maia Kobabe

2. All Boys Aren't Blue by George M. Johnson

3. The Bluest Eye by Toni Morrison

4. Flamer by Mike Curato

5. Looking for Alaska by John Green & The Perks of Being a Wallflower by Stephen Chbosky (these two books were tied in their number of national challenges at 55)

6. Lawn Boy by Jonathan Evison

7. The Absolutely True Diary of a Part-Time Indian by Sherman Alexie 

8. Out of Darkness by Ashley Hope Perez

9-10. A Court of Mist and Fury by Sarah J. Maas; Crank by Ellen Hopkins; Me and Earl and the Dying Girl by Jesse Andrews; and This Book Is Gay by Juno Dawson (all four of these books were tied in their number of national challenges at 48)
Here's an infographic that details the latest cases of censorship: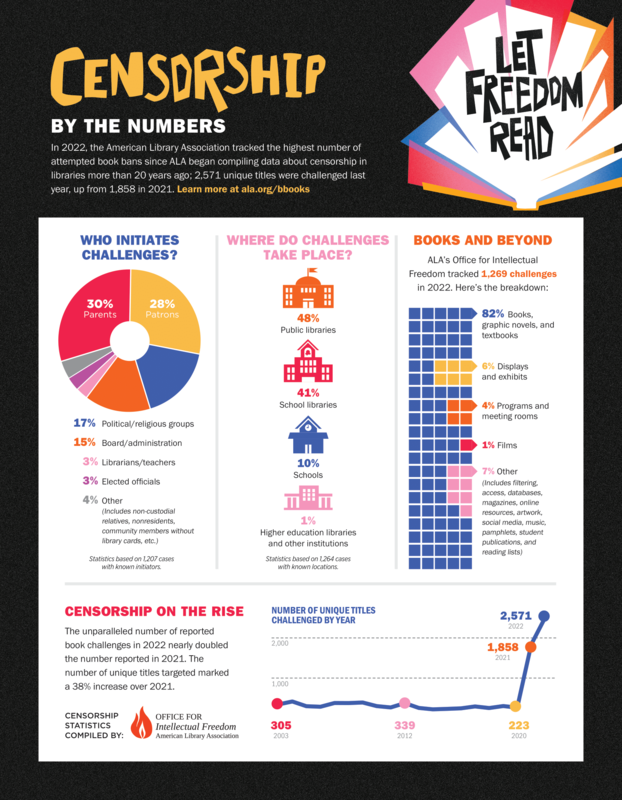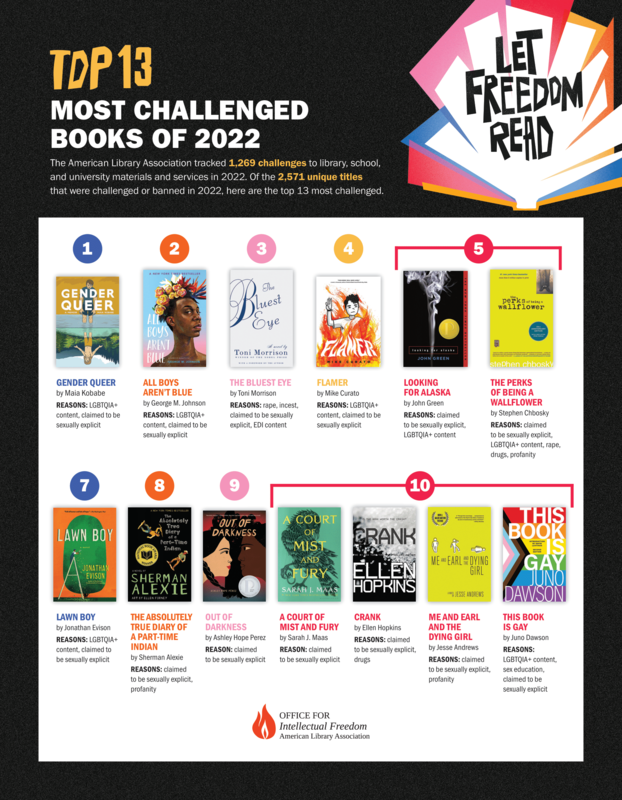 So how can you help fight against book bans and keep your library accessible to all?

1. Check out books! The best way to keep a book on the shelf is to check it out. If our end of the year reports show statistics that prove banned books are being circulated and requested by the general public, it is harder to make an argument for removing them from the collection.
3. Start a campaign: connect with others about book bans happening in your community and mobilize to speak out against them. Gather different groups and organizations in your area to attend legislative meetings or to coordinate a peaceful protest. The more publicized news of censorship gets and the more people become involved, the greater the chance of halting attempts or reversing laws that support book bans.
4. Report censorship to the ALA: the ALA's Office of Intellectual Freedom can help defend your freedom to read. Submitting a report keeps them aware of any national attempts at censorship.